WOODBURY LODGE

Amakhala Game Reserve, Eastern Cape
Location
The Four Star, Woodbury Lodge in the Malaria free Amakhala Game Reserve, is set adjacent to a beautifull gorge and cliff face above the plains and valley of the Bushmans River in the Eastern Cape. The views from the main lodge deck and the chalets is out over the open plains below.The Gush family, owners and hosts, endevour to make ones stay most enjoyable. Friendly staff, knowledgeable guides, comfortable accommodation and amenities, good food and exciting game viewing, make this a venue of choice in the Big Five Amakhala Game Reserve only some 45 minutes drive from Port Elizabeth.
At a Glance
Accommodation: 5 stone under thatch chalets - Max 10 guests
En suite bathroom and shower
Lounging area
View gazebo
Air-conditioning
Bar fridge and tea station
Main line electricity
Lodge swimming pool
For more information, to get a quote or to make a reservation respond on the form below.
Accommodation
Guests at Woodbury Lodge are accommodated in 5, stone under thatch Chalets, each with full bathroom en suite.
The rooms are air-conditioned and have large double beds, comfortable chairs and recliners. there is a bar fridge and tea station with an assortment of current magazines and magnificent views.
The main Lodge has a lounging area, a bar, internet, a swimming pool and sun deck with comfortable recliners. Adjacent to this is a boma area where dinners around a fire under the stars can be enjoyed. A lovely touch is that the dinners are hosted alternatively by one of the owners and the rangers. There is also a dining room for dinners and view deck which is where one has breakfasts and lunches.
Early morning and afternoon into the evening guided game drives are offered on the Amakhala Game Reserve with experienced game rangers adding value to the experiences and sightings. For a change of pace one may also enjoy bird watching and game spotting walks along the Bushman's River, or what about a cheese and wine boat cruise, or for the more energetic a sundowners canoe safari.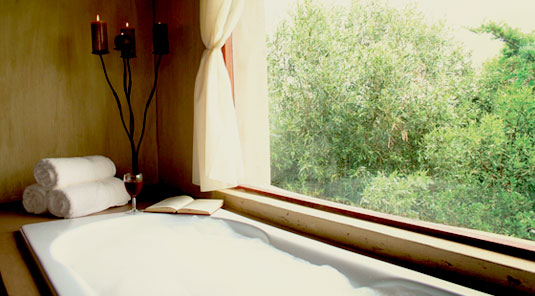 More Information about Amakhala Game Reserve
The Amakhala Game Reserve is renowned for its spectacular topography, having 5 of South Africa's 7 biomes. It is a particularly diverse and picturesque reserve, with the Bushman's River meandering through it. Amakhala boasts an abundant variety of wildlife including the Big 5,lion, elephant, buffalo, rhino and leopard. Leopard are however rarely seen due to their secretive nature, being nocturnal and probably a legacy of their persecution be the farmers in the past. With over 250 species of birdlife and the large diversity of animal species one experiences on game drives, night drives, walking safaris and boat cruises, the Amakhala Game Reserve offers guests an exceptional game viewing experience.
At the exclusive Annual Adventure Province (Eastern Cape) Tourism & Conservation Awards on 24th March 2011, Amakhala Game Reserve was the winner of the "Best Private Game Reserve in the Eastern Cape" category.
The Amakhala Game Reserve is also the only Private Game Reserve in the Eastern Cape to have Fair Trade Certified Lodges, a testament to the emphasis placed by the Amakhala Lodge owners on their social responsibility and support for the local communities.
The FTTSA certification label is an independent endorsement of fair and responsible tourism practice in South Africa. It is based on adherence to specific criteria such as fair wages and working conditions, fair distribution of benefits, ethical business practice, and respect for human rights, culture and the environment.