BAYETHE LODGE

Shamwari Game Reserve, Eastern Cape
Location
At Shamwari Private Game Reserve, we strive to deliver a safari experience that leaves you feeling revitalised, refreshed and relaxed. And, for a safari experience with a difference, our guests can stay in the luxury tented accommodation at Bayethe Lodge.
The name for this Shamwari lodge comes from the African greeting, pronounced "By-ye-ti". The English translation for this word is "I salute you" and is one of the warmest welcomes in the African culture in this area of the country.
For a luxurious, malaria-free experience, look no further than Bayethe Tented Lodge. This tented paradise offers guests the opportunity to immerse themselves in utter tranquillity, surrounded by the rich vegetation of this unique location that provides privacy and a feeling of seclusion with spectacular views of the African bush.
At a Glance
Bar
Internet Access
Malaria Free
Pool
Restaurant
Secure Parking
Spa
Bayethe Superior

Private plunge pool
Private deck
Private minibar
Air conditioning
Tea & coffee facilities
Electronic safe
Fitted international adapters
International dial telephone
Electric blankets
Underfloor Heating
En-suite bathrooms
9 tents have an indoor bath and outdoor shower and 3 tents have an indoor bath and indoor shower
Accommodation
The 12 Luxury Tents are camouflaged under trees allowing for ample privacy & unsurpassed comforts, each sleeping a maximum of 2 adults.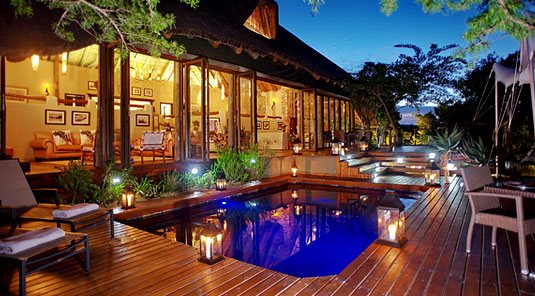 Activities
Game Drives & Guided Walks
At Shamwari Game Reserve, we not only offer our guests 5-star luxury accommodation, but pride ourselves on presenting wildlife interaction that is sure to be the highlight of your stay. Coupled with the African horizon and spectacular skies, we offer game drives through the reserve for an experience of a lifetime.
Drive through the Wild
Our game viewing drives are available for morning and evening trips, as this is when the animals are most active. Our vehicles are open and comfortable, and give you a panoramic view of the area. You'll be guided by one of our trained game rangers who'll take you and your party through the reserve, encountering many animals along the way.
If you have a particular area of interest, you're welcome to inform your guide who will include it along the journey, if possible.
The game drives themselves last for approximately three to four hours and take you through the reserve. Included on the game drive is a coffee stop for the morning drive and a sundowner stop in the evening.
Unfortunately, no children under the age of 4 are permitted on the game drives; however we can arrange a childminder at an additional cost.
Walking Safaris
In addition to spectacular game drives, Shamwari Game Reserve also offers professionally guided walking tours. Here, you can gain a true perspective of the flora and fauna indigenous to the region. Your guide can point out animal tracks, dung, hiding spots, rare birds and educate you on the area and its history.
Unfortunately, no children under the age of 16 or adults over the age of 65 (unless provided with a doctor's certificate of fitness) are permitted on these walks.
Birding
For a truly African safari experience, consider Shamwari Game Reserve as your next destination.
Not only do we offer unforgettable views and 5-star luxury accommodation, but we also have a host of activities available, including bird watching.
This malaria-free area of the Eastern Cape, South Africa, is home to a host of wild game, Big 5, and beautiful birds. Ornithologists and bird watching hobbyists alike are treated to an array of birds of prey sightings, including:
Black Shouldered Kites
Booted Eagles
Pale Chanting Goshawks
Secretary birds
Additionally, Shamwari Game Reserve has several bodies of water located throughout the reserve, which means it's the ideal opportunity to catch sight of:
African Darters
African Shelducks
Hamerkops
Malachite Kingfishers
Three-banded Lapwings
Standing out amongst the 25, 000 hectares of land, on your game drive or guided walk, you might also get a glimpse of:
Ant-eating Chats
Bokmakieries
Glossy Starlings
Hoopoes
Red-billed Oxpeckers
These are a few special birds that we are privileged to see here. Specialist guides, who know the habits and habitats of these birds, will do their utmost to get you a sighting of these birds in their natural environment.
Olive Bush Shrike (Ruddy form)
White Backed Night Heron
Black Harrier
Denhams Bustard
Narina Trogon
Our rangers are experts at navigating the Shamwari terrain and are readily available to answer any questions you may have. If there is a certain species you're hoping to spot, or an area you wish to visit, chat to your coordinator to make arrangements.
The Ian Player Rhino Awareness Centre
Our passion for conservation and species preservation fueled our ambition to inform the public, and in 2012, Shamwari Game Reserve opened the Ian Player Rhino Awareness Centre.
Dr Ian Player was a renowned South African conservationist, who was instrumental in saving the white rhino from extinction and was also the founder of one of our strategic partners, NGO – The Wilderness Foundation, along with numerous other conservation achievements.
Dr Ian Player sadly passed away on 30th November 2014, but his legacy and passion for animals lives on through his initiatives and ideology, carried by Shamwari Game Reserve.
Visiting the Facility
As part of your safari experience with us, you will have the opportunity to visit the centre and the animals in our care. Upon arrival at the Shamwari Wildlife Rehabilitation Centre, you will be met by a member of our team who will accompany you on a tour of the facility.
Born Free Big Cat Sanctuaries
In collaboration with the Born Free Foundation, the Big Cat Rescue and Education Centres are situated within our game reserve. They aim to draw attention to the plight of wild cats, confined in impoverished, captive environments throughout the world.
The Wildlife Rehabilitation Centre
At Shamwari Game Reserve we're passionate about the conservation of nature and the animals within the reserve. One of our endeavours includes the Shamwari Wildlife Rehabilitation Centre, which helps to rescue, rehabilitate and care for sick, injured, abandoned or orphaned animals under the care of our professional veterinary team. Once these animals have been nursed back to health, they are released back into their natural habitat.
The television series – Shamwari, A Wild Life, was filmed at the Animal Rehabilitation Centre.
You have the opportunity to visit the Wildlife Rehabilitation Centre when you visit Shamwari Game Reserve.
Relaxation Retreats
Escape to Shamwari Game Reserve and enjoy a safari spa experience in the wilderness surrounds of the Eastern Cape. Our spa retreats will leave you feeling revitalised and rejuvenated, with treatments that are proven to be beneficial for the mind, body and soul.
Kids on Safari
When you book your stay with your little ones, our Kids on Safari programme will keep them entertained and also teach them the importance of nature conservation.
Learn on Holiday
As a leader in conservation, we know how important it is to educate the future caretakers of the earth. That's why we've established several awareness centres that aim to shine a light on the plight of nature and the environment. They're a fun experience for the whole family and include:
The Born Free Foundation – A big cat rescue centre that promotes the conservation of the species and protection of their habitats.
Animal Rehabilitation Centre – A licensed facility with registered vets who care for orphaned, abandoned or injured animals, to be re-released back into the wild.
Rhino Awareness Centre – Opened in 2012, each display carries a powerful message, relaying stats and facts that emphasise the pressure that the rhino species is currently under.
Parents Take Note
At Shamwari, we also offer a delicious kids menu, which includes treats like French toast, pancakes and eggs.
We want to ensure an enriching experience for moms and dads too, there are a few points that you should take note of:
Kids under 12 must be accompanied by a parent to all of the learning centres
All swimming activities must be supervised by a parent at all times
Children under 4 years old are not permitted on game drives or at the Born Free rescue centres
Pre-booked childminding services are available at an additional cost
Shamwari is a malaria-free zone