BUSH LODGE

Amakhala Game Reserve, Eastern Cape
Amakhala Game Reserve's five star, luxury, tented Bush Lodge is ideally situated in the malaria free, Greater Addo area, only an hour's drive from Port Elizabeth. The Lodge is discreetly positioned in the bush at the top end of an open valley, set against a backdrop of indigenous fauna and flora.
The Reserve is a unique conservation initiative that allows animals to be re-introduced to areas where they once roamed freely and in so doing also contribute to the conservation of the country's natural heritage.
At a Glance
Accommodation: 5 Luxury Tents
Children - Yes (9 years and older)
Air Conditioning - Yes (Hot and Cold)
Private Plunge Pool - Yes
Outdoor Showers - Yes
Private viewing deck over wildlife watering point
Spa - in-house treatments
Malaria free destination
For more information, to get a quote or to make a reservation respond on the form below.
Each of Bush Lodge's Luxury Tents, have tented walls, wooden floors and a thatched roof. They each have a secluded, private deck overlooking a watering point and their own private plunge pool. The suites are air conditioned (hot and cold), have fireplaces, large oval baths and outdoor showers.
The Lodge's main building has a large, comfortable lounge, dining area and pub as well as an open deck with indoor and outdoor fireplaces, offering sweeping views of the area's indigenous flora, game-filled plains and panoramic landscape by day and an uninterrupted view of the African star-scape by night.
At one time used to ranch sheep and cattle, the Amakhala Game Reserve covers an area of 18 000 acres, and is now home to not only Africa's 'Big Five' - lion, elephant, rhino, buffalo and leopard but also cheetah, giraffe, zebra, wildebeest, monkeys, tortoise and plenty of antelope species, as well as some of the more elusive and shy animals like the hyena and bat-eared fox. The Reserve hosts five of the world's six vegetation biomes ranging from bushveld to savannah.
Activities on offer include open vehicle game viewing to see some of Africa's large and majestic beasts in their natural habitat as well as enjoying and watching the wealth of smaller mammals, birds and insects. Guests can relax on a boat cruise, while meandering the Bushman's River or arrange professional spa treatments, with an exclusive in-house therapist. Excursions can also be arranged to Addo Elephant National Park, Shamwari Game Reserve and the Born Free Foundation.
Amakhala Game Reserve's, 5 Star Bush Lodge offers visitors the perfect African Retreat.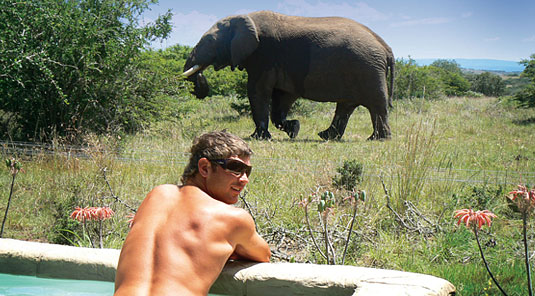 More Information about Amakhala Game Reserve
The Amakhala Game Reserve is renowned for its spectacular topography, having 5 of South Africa's 7 biomes. It is a particularly diverse and picturesque reserve, with the Bushman's River meandering through it. Amakhala boasts an abundant variety of wildlife including the Big 5,lion, elephant, buffalo, rhino and leopard. Leopard are however rarely seen due to their secretive nature, being nocturnal and probably a legacy of their persecution be the farmers in the past. With over 250 species of birdlife and the large diversity of animal species one experiences on game drives, night drives, walking safaris and boat cruises, the Amakhala Game Reserve offers guests an exceptional game viewing experience.
At the exclusive Annual Adventure Province (Eastern Cape) Tourism & Conservation Awards on 24th March 2011, Amakhala Game Reserve was the winner of the "Best Private Game Reserve in the Eastern Cape" category.
The Amakhala Game Reserve is also the only Private Game Reserve in the Eastern Cape to have Fair Trade Certified Lodges, a testament to the emphasis placed by the Amakhala Lodge owners on their social responsibility and support for the local communities.
The FTTSA certification label is an independent endorsement of fair and responsible tourism practice in South Africa. It is based on adherence to specific criteria such as fair wages and working conditions, fair distribution of benefits, ethical business practice, and respect for human rights, culture and the environment.